October 21st, 2017
Orange County Business Journal
2017 OC Philanthropy
Gratitude Channeled Into Money-Saving Enterprise
By: Kim Haman
September 4, 2017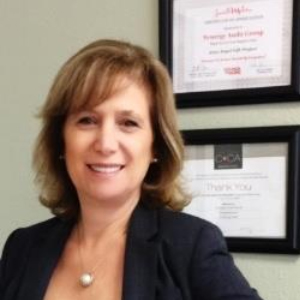 It's a story that could have had an entirely different ending.
Fourteen-month-old Nancy Hyatt was placed in foster care at the age of nine months. Five months later, the little girl was still in the system. Her chances of being adopted were far less than if she were a few days old instead of already entering toddlerhood.
Meanwhile, in a city not too far away, Esther and Cyril "Bus" Sheets were keeping their hearts open for good news. For several months, they'd been on the list to adopt a girl. They had already adopted a boy, then 3, and longed to complete their family.
At last, Esther got the call. "We have a girl," she heard. "But she's not a newborn. Would you be open to taking a toddler?" She didn't even hesitate. "Of course!"
When the social worker brought Nancy to her new home, she placed her in Esther's arms, and the child fell fast asleep.
"My mom told me that when I woke up, it was as if I'd always been there," Hyatt says with a smile.
The life that followed is one that would have made a 1950s TV producer proud. Their home was in the middle-class city of Arcadia, which grew rapidly in the postwar years. Hyatt says there must have been 40 kids on her street.
"I was lucky."
Best Time to Help Is Now
It's that sense of gratitude that inspired Hyatt to help nonprofit groups through the company she founded 20 years ago, Synergy Audit Group in Lake Forest.
Synergy develops cost-savings strategies for for-profit and non-profit clients through careful and thorough audits of their telecommunications systems. In 2015, Synergy Audit started a program to help nonprofits balance administrative costs while ensuring as much revenue as possible is available for their missions. About 50% of Synergy's business is from nonprofits.
"Given my life experience, I'd always wanted to help nonprofit organizations, and children especially," Hyatt says. "I used to think that I would start doing volunteer work when I wasn't so busy. But years ago, I realized that the time to start helping is now, not waiting until I retire. I love my job. I may never retire. So what better time to do it than right now?"
Nonprofits need to direct as much of their revenue as possible into managing and even expanding programs. Yet they're organizations with all of the expenses for-profit businesses face, including telecommunications. Approximately half of Synergy Audit's clients are nonprofits. They aren't charged a fee; instead, Hyatt makes a contingency arrangement. If they don't save money, it doesn't charge anything. The company also donates approximately 10% of each nonprofit's bill back to the organization.
Synergy "saved us money and those savings have opened opportunities for us to serve more clients," said Jerri Rosen, founder and chief executive of Irvine-based Working Wardrobes, in an email. The nonprofit provides career training, job placement help and professional wardrobe services.
Bottom Line
Hyatt started Synergy Audit after working several years as a sales professional in the telecommunications industry. "Back then, I could see that signing clients up with a new service carrier was simply putting a Band-Aid on the problem. … but it wasn't our job to come in and clean things up." While she wasn't passionate about the job, she was good at it and was quickly promoted to management.
During those years, she divorced and became a single mom to a daughter. "I was in management and had to be at work early and stay late. My daughter was 6 years old and eating breakfast in the car and spending hours at daycare." Hyatt decided the time was right to leverage her knowledge of the telecommunications industry to create a business.
"I was motivated by two things," she says. "I wanted to be there for my daughter as much as I could, and I wanted to help businesses make a difference in their bottom line. I'm passionate about it."
Always good with numbers—thanks in part to her dad's method of turning her childhood math homework problems into a game—Hyatt started off creating pricing comparisons for her clients and negotiating with their carriers. Over the years, as telecommunications pricing has changed, Synergy changed its approach.
"We moved into doing a complete audit of all the telecommunications bills," she explains. "We do a complete inventory. What is going out the door? What are they spending each month? In some cases, clients are paying for lines that aren't even active. We had one client—a grocery store chain—that was being charged every time they added a line in a new store. We took a look at their contract. The fine print said they weren't supposed to be charged. We ended up getting the company a $50,000 credit."
Those are the skills Hyatt and her team applies to nonprofits. "There hasn't been one nonprofit that we haven't been able to save them money."
Take the Ocean Institute. Chief Financial Officer Lane Avery says the organization hadn't done an audit of that nature in years. Synergy found phone lines that were no longer in use. It also discovered that a state-funded discount for communication services that all nonprofits are entitled to receive, was being unevenly applied. Synergy was also able to negotiate existing contracts and secure better rates. Monthly savings amounted to more than $1,400.
"As a nonprofit organization, we need to make every dollar go farther," Avery says. "Synergy Audit Group cut our telecommunications expenses by 63%, which exceeded our expectations."
Right Decision
Hyatt's father, a World War II Marine veteran and a civil engineer, taught her to rely on herself. Her mother emphasized the importance of family. They always supported her, from her first job at Fluor, where she worked her way up from clerk typist to associate financial analyst, to her decision at age 27 to leave her high-paying job to earn a college degree, to starting her own business. The last she accomplished two years before her dad died.
Her mother supported her, too when, 15 years ago, Hyatt sought out her birth mother. "My parents are my parents and always will be," she says. "But I was curious. I had questions." She met her birth mother and discovered she had two half-sisters.
Knowing her biological mother was out there also added to Hyatt's motivation to make the most of the opportunities she'd been given.
"I always had a feeling that one day I was going to find my bio mom, so if and when that time came, I wanted her to be proud of me. I think with all adoptees, at least the ones I've met, there's something we need to prove to ourselves that although someone didn't want to keep us for whatever reason, we turned out to be successful, happy people," she says. "I wanted my bio mom to know she made the right decision for me to have the opportunity to grow up with a loving family."