Is Your Business Improving the Phone Company's Bottom Line Instead of Your Own?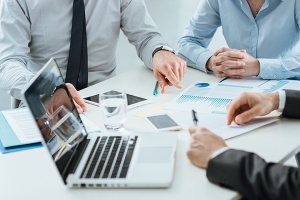 A true telecommunications audit consists of a complete review of all existing telecom services and uncovering and implementing measurable savings without changing carriers.
Our first step is to establish a "Book of Business" which is an inventory database of services that identifies every single line item charged by each carrier on a monthly basis. This includes voice, data, internet and wireless services. The inventory alone has helped our clients become aware of exactly what they are spending each month as well as assist in making future telecom decisions for their company. With our 30+ year's industry knowledge, we are able to uncover savings and refunds that at times are nearly impossible to locate by an untrained eye. Our high level manual analytics enables us to analyze every line item for possible savings and refunds. Some of the areas include: contract compliance, unutilized services or services no longer needed and billing errors, just to name a few.
Although every company's telecom infrastructure is unique, in most cases our clients realize an average of 20% savings on their annual telecommunications services. It is important to note that we are not associated or contracted with any telecom carriers. It is our unbiased approached that has saved and recouped millions of dollars for our clients without making any carrier changes or changes to the way your telecom infrastructure is configured. We are also very sensitive to the fact that companies are shorthanded and their time is very valuable. We obtain 1 month of telecom billing, often times via online billing through a temporary log on to avoid taking time from your accounting personnel. Our audits are conducted at our facility and we meet with you once we have the audit results and can show you the savings.
Our fee is contingency based so if we are unable to uncover, implement and verify savings to your satisfaction, there is no fee for our service. We are proud of the relationships that we have made with our clients over the years; many of which return for additional services or for another quick audit review year after year.
Not all Telecom Expense Audits are Created Equal
Over the last several years, there have been other "auditing" groups that claim to do telecom auditing. Here is what we found:
Telecom Agents – All of the major telecom companies hire independent agents to market and sell their services. Because "audit" is the new buzz word, agents claim to provide telecom audits. However, their end goal is to change your services to one of the providers they represent. That is how they make their money. They may provide you with a "proposal" of what they can save you, but it would only be realized if you change carriers. This is typically not disclosed on the front-end which ends up taking precious time of your already hectic day working on your core business.
Existing Service Providers – Your existing carrier may offer to conduct a "free" audit for you. Sounds pretty good, right? They are not looking to make sure you are paying too much, or you perhaps have services that are obsolete or to reduce your costs. All they really want is more of your business…bottom-line!
Other Telecom Auditing Firms – There are literally hundreds of auditing companies that have surfaced over the last 10 years. Many of these companies do not have experienced telecom auditors on staff so they outsource their telecom auditing to other companies. Because of our reputation and experience, several auditing companies have contacted us to perform their audits for them. Chances are, if you choose another telecom auditing company, it will ultimately be Synergy Audit Group who performs the work!